Research Model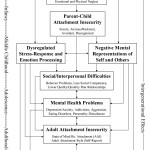 Dr. Jon Caldwell has an intense and enduring interest in why, and maybe more importantly, how does childhood maltreatment result in maladaptive physical, emotional, cognitive, and social outcomes in adulthood.  Improving awareness and understanding of the developmental and neurobiological mechanisms responsible for these relations will lead to better interventions and treatments for people who have experienced abuse and neglect in childhood.
For many years, Dr. Caldwell has been working from a research model (see picture) that is grounded in attachment theory and flavored by contemporary findings in the fields of developmental psychology and neuroscience.  His model suggests that social interactions, and more specifically, attachment relationships, are fundamental to the development and organization of neurobiological systems in the brain and body.
The model also suggests that maltreatment and attachment disturbances can lead to changes in neurobiological systems that result in a diminished capacity for self-regulation, including problems with emotion regulation.  Relational trauma and attachment insecurity can impair a person's ability to flexibly and adaptively regulate emotions to meet situational demands and this may contribute to a host of social-emotional problems later in life.
Dr. Caldwell's research has focused on the interconnections between childhood maltreatment, the attachment system, and the capacity to flexibly and adaptively regulate emotions.  Find links to published research here and not-yet-published manuscripts are available upon request here.  He continues to actively research these topics and his future research will explore whether mindfulness practices can enhance the capacity for emotion regulation and true intimacy in people who have experienced childhood maltreatment.